'Mansplaining' ad removed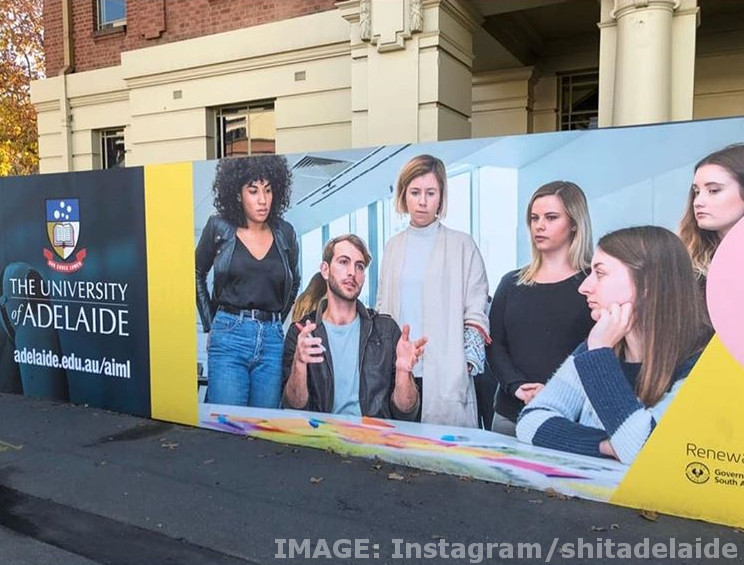 An advertisement has been removed from a future university building in Adelaide after being labelled sexist.
Advertisements on hoardings outside the old Royal Adelaide Hospital (RAH) site featured an image of five women surrounding a man talking.
The image was circulated online and soon alleged to be an ad for the "Masters of Mansplaining".
The signage belonged to Renewal SA — the group responsible for a range of government projects including the RAH redevelopment.
It has now been replaced with an advertisement for an open day.
A spokesperson said the photograph "was taken from a series of engagement workshops held with real university students to showcase talented students actively expressing ideas for the future of the old Royal Adelaide Hospital site".
"The image taken was not a staged photo shoot, and intended to help promote the site and attract future business leaders, entrepreneurs, and start-ups to be a part of Australia's first creation and innovation neighbourhood.
"In recognition of the personal impact of the social media speculation for the individuals in the image, the image was replaced with details about the upcoming open day, on Wednesday 11 July.
"The images on the hoarding boundary are expected to change over the evolution of the project to reflect our continuous engagement with stakeholders, community and on-site activation experiences."
The University of Adelaide was quick to distance itself from the advertisement.
"The hoarding in which that image appears belongs to Renewal SA, not the university," a spokesperson said.
"The photo of the hoarding has been deliberately angled and cropped to suggest that the image is directly related to the university, which it is not.
"Our logo is part of a separate image, which has been cropped out."