Car chiefs face fines in the billions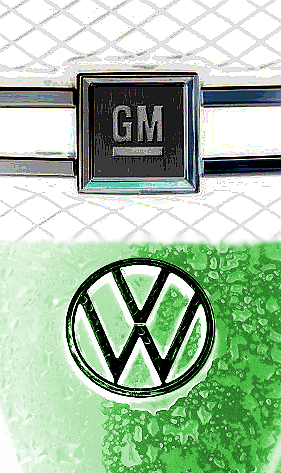 UPDATE 23/09 - Volkswagen has now admitted installing its dodgy emissions test "defeat devices" in 11 million clean diesel cars sold worldwide, the vast majority of which were in Europe.
The company has reportedly set aside $7 billion in the third quarter to deal with the problem.
ORIGINAL 22/09 - Two major car-makers have been faced with the prospect of big fines in recent days.
General Motors (GM) has been forced to pay more than $1.2 billion for not recalling millions of faulty cars, which were linked to 124 deaths and hundreds of injuries.
Meanwhile, ongoing investigations are looking into claims that Volkswagen faked the emissions tests for diesel vehicles in the US. The US Justice Department probe into the scandal could lead to fines of more than $US18 billion ($25 billion).
GM has reportedly reached agreements to settle the massive civil litigation brought against it over faulty ignition switches.
The problem led to the failure of steering, brakes and airbags in some models.
GM launched a recall of 2.5 million cars last year, and have now reached a settlement with US prosecutors to end their criminal probe into the switch problems.
It clear the company of future litigation over 1,380 injury and death claims consolidated in New York federal court.
A separate settlement allows GM to resolve litigation brought by its own shareholders, who say the company's actions lost billions in market value because of safety issues.
GM executive vice-president and general counsel Craig Glidden said in a statement that the company was pleased to resolve "difficult claims without the burden, expense and uncertainty of litigation".
Meanwhile, the US Justice Department and Environmental Protection Agency (EPA) are looking into claims of an emissions scam at Volkswagen.
Whistleblowers say hundreds of thousands of the German giant's diesel cars have software installed that secretly thwarts US emissions tests.
The US EPA is now looking for the so-called "defeat devices" in diesel vehicles on the road that are produced by other manufacturers.
According to the US authorities, VW equipped 482,000 cars in the US with software that turned off emissions controls when driving normally, and only turned them on when an emissions test was detected.
It allows the cars to pass emissions testing and earn a certificate of good environmental performance.
But once the test is finished, the mechanism de-activates and allows the car to release pollutant gases into the air.
As the investigation continues, the EPA has ordered VW to recall the vehicles concerned — four-cylinder VW and Audi diesel cars built since 2008 — and fix their emission systems.
Volkswagen faces fines under the US Clean Air Act of up to $US37,500 for each car, meaning the company could be hit up for more than $US18 billion.