Cops pay for paralysis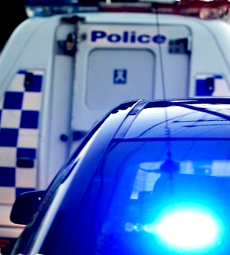 Victoria Police will pay $11.75 million to a man left paralysed after the excessive use of force by officers.
In a Supreme Court settlement this week, Chris Karadaglis said he was at his home in south-west Victoria in November 2017 when three police officers allegedly forcibly removed him from the property.
"The plaintiff was alone at the premises and he posed no threat to the police officers or anybody else," court documents obtained by reporters state.
He claimed he was placed in a headlock, and the officers restrained him with such force that they severely injured his spine, rendering him a quadriplegic.
"One or more of the officers applied excessive force to the plaintiff who suffered devastating injury to his cervical spine," the documents said.
"[Karadaglis] was forcibly taken out of the premises by the officers," lawyers for Karadaglis said in the statement of claim.
"He was placed in a headlock by one of the officers with the officer applying increasing force to the plaintiff's neck.
"During the physical restraint of the plaintiff, one or more of the officers applied excessive force to the plaintiff who suffered devastating injury to his cervical spine."
The court ordered a $11.75m settlement must be made by the end of the month, less any repayments due to the National Disability Insurance Agency.
There was no finding of fault or liability on behalf of the officers.
However, in June, the three officers allegedly involved were charged with negligently causing serious injury, and will face court for the first time next month.
Victoria's Attorney-General Jaclyn Symes has also announced that the government will complete a "systemic review" into the laws regarding complaints made against police. She said she wanted to ensure the laws place "a stronger focus on the needs of complainants and victims of police misconduct".
Meanwhile, on another matter, Victoria's anti-corruption watchdog has revealed the full extent of a former police officer's "offensive" trolling.
The former head of Victoria Police's ethical standards department - Brett Guerin - used several aliases to publish homophobic, racist and offensive posts on social media, according to a special report by the Independent Broad-based Anti-corruption Commission (IBAC).

Mr Guerin stood down from his position in 2018 following allegations he made "crude and coarse" comments about former police commissioner Christine Nixon and others.
Mr Guerin was assistant commissioner of the Professional Standards Command (PSC) at the time.
The report said Mr Guerin's trolling sometimes relied on knowledge he obtained from his position as an assistant commissioner in posts that were "often favourable to Victoria Police".
"I was defending my profession. These people were attacking it," Mr Guerin told IBAc at the time of its investigation.
"They were alleging that [Professional Standards Command] and Victoria Police generally cover up corrupt cops. I know that's not true."
Mr Guerin was also the subject of civil litigation while working as a superintendent, for allegedly using racist terms against a colleague.
A confidential financial settlement was reached, but because information about civil litigation is not recorded on personnel files or Victoria Police's Register of Complaints and Serious Incident Database (ROCSID), it does not come up when Victoria Police members apply for jobs or promotions.
"Mine is a salutary lesson for others that there is, ultimately, no anonymity on the internet and nothing posted should be considered temporary," Mr Guerin said in response to the IBAC report.
"Although my postings on social media were inappropriate, my actions were not criminal and my decisions at both assistant commissioner and superintendent levels were not influenced by any actual bias."