Council rebuffed in bid for refugee boost

Print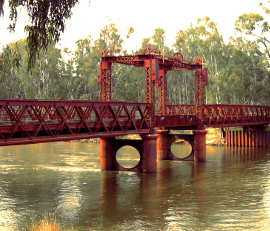 One regional council has written to the Immigration Minister requesting refugees be settled there, but says the offer was rejected.
Berrigan Shire Mayor, Bernard Curtin, says his council wants to help asylum seekers find a safe new home, and he is willing to meet with Immigration Minister Scott Morrison in Canberra to make it happen.
But the mayor says the Department's response stated it was not looking to open new regional resettlement locations, and that Mr Morrison was not interested in a meeting.
"They know they only have a 50 per cent chance of getting here... but they're prepared to take that risk to get away from this horrendous environment they're living under," Councillor Curtin said.
"Someone said to me they're criminals because they are jumping the queue but I said well if you break the speed limit you're a criminal.
"These people are not criminals, these people are trying to find a better way of life," he said.
The Mayor of Berrigan says there are plenty of benefits to the idea, if the Immigration Department were willing to listen. He says the next move is to take the issue to Farrer MP, Sussan Ley.
"All of our areas out here still have very good infrastructure, but the people are not here to make use of it," Councillor Curtin said.
"Here was a chance of resurrecting populations in the inland part of New South Wales, but we virtually were chopped off at the knee."
He says the jobs are already there.
"We're all the time looking for tractor drivers, dairy hands and we've got those opportunities for them... these people work in agriculture and that's our strength," Curtin said.
"In our area all our doctors are Iraqis, Sri Lankans as well, we depend on them... [If not] for them we would not have doctors at all in our shire."
"They're highly respected, people appreciate their presence," he said.
"It would create jobs, increase in schooling, health services and transport and we thought it was a win-win both for the federal government and for our area and indeed for these refugees."
The issue will be discussed at this week's council meeting.