Manufacturing change urged

Print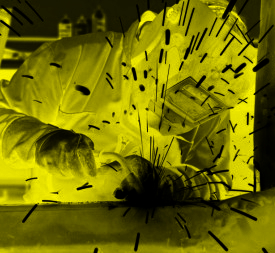 Australian manufacturing must innovate or be swallowed up in just a few short years, according to one expert.
Former University of Technology Sydney professor and manufacturing consultant, Graeme Sheather, says less than half of local manufacturers are innovating, despite growing global competition and disruptive new technologies.
"If they don't make the change in five years then they won't be here," he told the ABC.
Ten years ago there were over 96,000 manufacturing firms in Australia, but that figure had dropped to 84,000 by last year.
Mark Goodsell, national director of manufacturing at the Australian Industry Group, says many firms are keep back by the time and cost of transitioning to the future.
Only a slim proportion of manufacturers team up with universities or research institutions, or take advantage of government and industry programs.
"There's quite a few government programs both at the federal and state level," Mr Goodsell said.
"When we last added them up, there was well over 150 so there's no shortage of individual programs, but it can be bit of a confusing mix.
"The real trick for government programs is to make sure they are flexible enough to meet the needs of the individual company because every transformation story is slightly different and it's not really a one size fits all game."
Professor Sheather has found that firms struggle to navigate the maze of information about government grants.
"The schemes are confusing, they are mis-aligned with industry needs," he said.
"They focus on technology innovation — not business innovation — and essentially the innovation programs are too broad, documents [are] unreadable without legal background.
"So they've basically said we don't want to be involved with government and we'll do it ourselves; it's almost a DIY approach to manufacturing change."