Qantas seeks sweetened cut

Print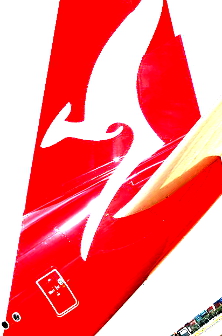 Qantas is threatening workers over what has been called a "bribe" to accept a new pay deal.
Qantas says it will offer $5,000 bonuses to staff who sign a new pay deal that includes a two-year wage freeze and, after that period, a 2 per cent annual wage bump – well below the headline inflation rate of 5.1 per cent.
The one-off payment would go to about 19,000 existing staff covered by enterprise bargaining agreements, with nine pay deals covering 4,000 employees already finalised. The finalised deals gave bonus payments to long-haul cabin crew, QantasLink and 717 pilots and others. Qantas is trying to sell the payments to staff alongside a share rights plan worth several thousand dollars.
Transport Workers Union national secretary Michael Kaine has slammed the move.
"This is not a 'thank you' payment, it's more like a bribe," he told reporters.
"The strings attached to this sham payment are just more wage suppression tactics Qantas has become accustomed to under the 15-year Joyce regime.
"For Joyce, this tactic kills two birds with one stone: distract the angry public from Qantas becoming the worst-performing airline, and pressure workers into accepting wage freezes that will crush pay and conditions at the airport for decades."
Australian Licensed Aircraft Engineers Association secretary Steve Purvinas says the deal would see workers overdue wage increases worth $10,000 a year, for a one-off $5,000 payment.
"Our members are not that stupid. This trickery by the Qantas CEO must end," he said.
"Qantas needs a new chief executive, someone who accepts blame for mistakes, and takes appropriate corrective action. I fear that Australia will have no national carrier if the current trajectory continues.
"A one-off $5,000 payment will not fix the problems created by the current management team."
Qantas is doubling down, warning its workers that the $5,000 offer will be taken off the table if they take part in "any action that harms Qantas or a Qantas Group company".
"The workgroup covered by the Wage Freeze EA [enterprise agreement] must not have engaged in any action that harms Qantas or any Qantas Group company between the announcement date and the payment date," internal documents reported in local media allegedly say.
The term "harm" reportedly covers any serious breach of Qantas' company policy, including taking unprotected industrial action, but Qantas will allegedly consider scrapping the bonus if staff undertake protected industrial action too.