First listed on: 12 November 2017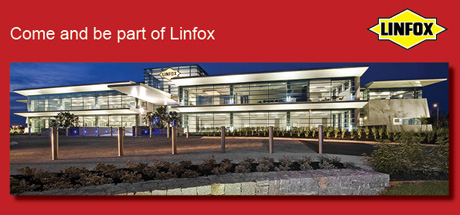 Safety & Compliance Manager
Linfox is Australia's largest privately-owned logistics company, rapidly expanding throughout Asia and New Zealand. We employ more than 23,000 people in 11 countries. At Linfox, the safety of our people, customers and the communities in which we operate is our number one priority. Our LIFT Values– Loyalty, Integrity, Fairness and Trust form the foundation of our culture and underpin the way we do business.
Linfox believes in the importance of creating a solid safety culture that is demonstrated by all employees and is the cornerstone of everything we do. The Safety and Compliance Manager – Retail ensures employees have the training, skills and support to provide a safe work environment throughout the network of sites. Tasked with maintaining the link between Compliance and Safety, you will work on customer sites conducting audits, I-CAM investigations and training presentations, to ensure Linfox continues our journey to achieve our Vision Zero goal.
Reporting to the State Manager - Retail, your key duties will include:
· Support Transport and Operational compliance including: Chain of Responsibility, Fatigue, Maintenance of Fleet, Mass of Loads, Load Restraint, National Heavy Vehicle Accreditation Scheme, State legislation requirements to operate heavy vehicles
· Measuring, monitoring and providing reports on continuous improvement in safety and compliance
· Assisting the Retail Business Unit to reduce the number and cost of workplace injuries and motor vehicle accidents, including root cause analysis and recommending actions
· Involvement in risk networks to develop solutions to major hazards within the business
· Travel to operational sites for review and independent audit of safety/compliance standards and procedures
· Manage the effective Safety performance of the Business Unit (including contractors) and report performance and continuous improvement actions
· Establish effective and measurable objectives, targets & KPIs for Business Unit as part of the internal performance evaluation process in line with the Linfox Corporate Safety Management System
· Coordinate annual Safety Management programs and external OHS audits
· Investigate incidents to find root cause and contributing factors using Incident Cause Analysis Methodology (ICAM)
· Assist in maintaining Comcare Self Insurance license through coordination internal and external auditing program to ensure compliance
As the successful candidate, you have:
Tertiary Qualification in relevant Health and Safety discipline
Certificate IV in Workplace Assessor & Trainer
Demonstrating a sound knowledge of Road Transport Compliance and Safety
Safety Management system auditing experience
Experience with certified OHS management systems
Experience in incident investigation and risk assessment
Knowledge of the Work, Health and Safety Act 2011 and related legislation
Sound knowledge of risk management methodologies and auditing processes
In return for your hard work, you can expect:
An opportunity to work with the market leader in safety

A competitive salary, commensurate with experience
The opportunity to provide intelligent insights internally and externally
To work with a great team and inspiring manager, dedicated to ongoing improvement initiatives in safety across the entire Linfox network
Come and be part of Linfox!
You will be required to meet Linfox's employment criteria which will include but not be limited to a Criminal History Check and full medical with a drug and alcohol test.
Linfox encourages applications from Aboriginal and Torres Strait Islander Australians.
Closing Date:

24 Nov 2017
Location:

VIC
Salary:

competitive salary, commensurate with experience
Work Type:

Full Time
Category:

Compliance/Risk
Management
OH&S/Risk