Cost of care keeps mums from work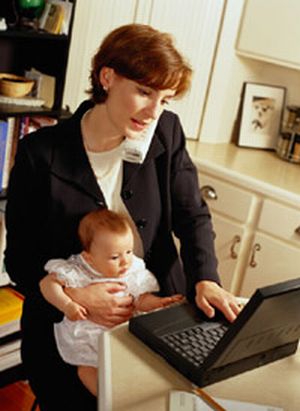 High costs and confusion over childcare options are forcing many mothers to put off their return to work after pregnancy, some forced to stay home permanently.
An analysis by weekend News Corp journalists has suggested high childcare costs could be prevent mothers from rejoining the rat-race, saying in Melbourne's southeast electorate of Goldstein parents typically pay almost $110 per day for childcare, up to $111 at Wentworth in Sydney's eastern suburbs.
The cheapest childcare option is still not easy on the wallet; parents pay $64 a day for minders to watch their children in the electorate of Hume.
Parents currently fork out half that rate, with the rest covered by the Child Care Rebate, capped at $7500 a year. Australian Childcare Alliance president Gwynn Bridge says, "A lot of [mothers] are finding that the cost of getting back into workforce and child care fees, especially if they've got a couple of children, it certainly mounts up."
Ms Bridge has called for the $7500 cap on the Child Care Rebate to be lifted for the first time in years, saying it has forced many mothers to work part time so as to remain eligible for the rebate, which may not be enough.
Early Childhood Australia chief executive Samantha Page is worried Government subsidies were too confusing, putting women off returning to work at all saying, "we are concerned that women are making decisions based on the full cost of childcare without the rebates... it's too complicated for parents to do scenario testing about different types of care at different costs in different jobs they might be considering or different hours they might be considering... the most important thing is to be able to say when you're going back to work, well if I work two days or three days what's the difference going to be for me to be able to make those difficult decisions, and you just can't do that at the moment."
The Federal Government has made a few moves to make things better for mums; it is trialling longer hours for childcare so that shift workers have more options, it has also creating a $300 million fund to increase pay for some childcare workers.
The Coalition says it wants a Productivity Commission review of the industry looking at cost, availability and flexibility, it is also toying with the idea of including Government assistance for parents who use nannies.