First listed on: 14 September 2021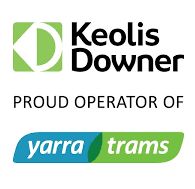 Workcover Case Manager

Company description:
Yarra Trams is proudly operated by Keolis Downer, the largest private multi-modal transport operator in Australia.

Since taking over the running of the network on 30 November 2009, we have improved safety, delivered record passenger satisfaction, and maintained punctuality during a period of unprecedented growth across Melbourne.

Our guiding principle is to 'think like a passenger'. We focus on delivering safe, reliable, clean, and easy-to-use services. And we are committed to increasing the environmental, social, and economic contribution that Melbourne's tram network makes to the city.

We work with the Victorian Government, Public Transport Victoria and other transport agencies and operators to provide a fully integrated transport service for the people of Melbourne.
Job description:

About this role
World's largest tram network
A Melbourne Icon
Lead and support case management, early-intervention, and prevention activities
Keolis Downer is the proud operator of Yarra Trams, the oldest and largest light rail network in the world. Since 2009, Keolis Downer has significantly invested in Melbourne's tram network and community.

As the operator of Yarra Trams, we bring our international expertise to Melbourne to ensure we deliver safer, more reliable passenger service and performance, while increasing the value of the tram network for Melbournians and the thousands of visitors to our city every day.
To support the company's operational and safety objectives, Yarra Trams Safety team is seeking an experienced Case Manager / RTW Coordinator to foster employee wellbeing and recovery, and support Yarra Trams in meeting its employer obligations under relevant legislation.
The role will provide administrative support, prepare return to work programs and contribute to the development of strategies for proactive management of claims.
You will be responsible for:
Registering all new injuries/incidents on Quickclaim Software and lodging claims with our insurer within the legislated timeframes;
Managing a portfolio of Workcover claims including IB and hearing loss claims;
Preparing Return to work plans, in consultation with injured employees, union delegates and managers/supervisors;
Liaising with injured employees, team managers or supervisors and medical providers as required to resolve any Workcover certificate issues;
Liaising with lawyers/solicitors/insurer, collating and providing documents requested by them);
Stakeholder management and liaison activities, including with WorkSafe, Workcover Agents, Investigators, Rehabilitation Providers, Solicitors, Unions etc.;
Providing weekly and monthly claims performance reports;
General ad-hoc administrative support for Injury Management team and broader Safety team.
Important for your success:
Qualification in allied health or occupational health management (preferred);
Knowledge and experience with WIRC Act and WorkSafe RTW Compliance Codes;
Excellent verbal and written communication skills ;
Proactive work ethic with strong time management and administration skills;
Empathic case management skills;
Sound statistical, analytical and administrative skills;
The ability to understand the importance of early intervention and individualised claims management;
Understanding of Workcover claims milestones including how to calculate, record and process entitlements;
Skills in the use of Elumina/Quickclaim Software is preferred.
As the successful candidate you with enjoy autonomy and the opportunity for career growth and work in a large and supportive team environment where you can make this role your own.
The Melbourne tram network offers a stimulating and diverse operating environment, where, in this role, you can meaningfully improve employee safety and wellbeing.
Interested? Click Apply Now. Only completed online application forms will be accepted.
The selection process for this role will include pre-employment checks, including probity (police) and medical check.
Yarra Trams is committed to creating a workplace that builds respect, promotes diversity and encourages inclusiveness. Our key pillars of Gender Diversity, Age Diversity, Cultural Fluency & Inclusion and Marginalised Community Support form our Diversity and Inclusion Strategy.

Applications close: 26th September 2021
Closing Date:

26 Sep 2021
Location:

VIC - Melbourne
Work Type:

Full Time
Category:

Management
Return to Work/Injury Management
Workcover/Compensation