ANZ could ditch coal

Print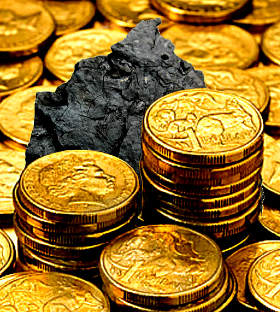 Internal documents suggest ANZ will drastically slash its lending to thermal coal mining.
A leaked document allegedly seen by the ABC says ANZ has plans to shed more than $700 million of thermal coal loans by 2024 — a reduction of 75 per cent.
The Commonwealth Bank and NAB have both publicly announced plans to exit the industry by 2030 and 2035 respectively.
"ANZ has benefited by being a dominant financier of this commodity and we recognise this is not an easy time for our team members who have built deep relationships and expertise," the email said, according to reports.
"However, we also recognise that the time has come to manage this transition in a clearer way.
"The strategy has taken time to develop and is now agreed. We ask you all to support this strategy as we move forward."
The email was from July, but ANZ's climate change statement from February made no reference to reduction targets.
"Around 37 per cent of the world's electricity comes from coal-fired power stations, and in Australia, many communities, particularly in regional areas, are reliant on the coal industry for employment," the statement said.
"We believe that all stakeholders in the transition to lower emissions should give careful consideration to the impacts on affected communities."
Minerals Council of Australia CEO Tanya Constable told reporters: "We need to stop talking about shutting things down and start focusing on getting emissions down".
"We can do this through displacing poor quality coals by exporting higher quality, Australian coals that produce more energy," she said.
Westpac does not appear to have any plans for reducing or eliminating its exposure to thermal coal.