Extortion charge for former mayor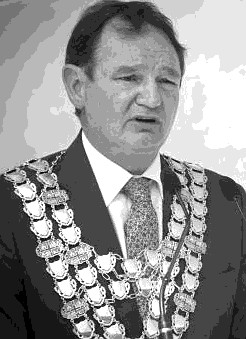 Former Ipswich mayor Paul Pisasale has been found guilty of posing as a private eye and attempting to extort the former partner of a Brisbane escort.
Mr Pisasale admitted to impersonating a private investigator to pursue Sydney taxi driver Xin Li for up to $10,000 on behalf of his co-accused Yutian Li.
He had pleaded not guilty to two counts of extortion, arguing that he honestly believed the woman was lawfully entitled to the money.
It is the latest low in a continuing downward slide for a man who was one of Queensland's longest-serving and most popular mayors.
Mr Pisasale came undone because, his lawyer said, he is a "sucker for a damsel in distress".
The jury in the seven-day trial heard Mr Pisasale knew Yutian Li through her work with an escort service massage, having engaged her for sexual services.
Mr Pisasale told the District Court that Yutian Li had confided in him that her relationship with Xin Li had broken down, and that she found out he was married only after she spent thousands of dollars to move to Australia.
The former mayor testified that he believed Xin Li owed Yutian Li the cost of a private investigation that had revealed the truth about his marriage to another woman.
The Crown said there was no evidence of any such investigation, finding Yutian Li wanted to stay in Australia, and Xin Li was paying to make that happen.
"It seems she didn't want to work as an escort any longer, or at the very least Pisasale didn't want her to have to work as an escort any longer," Crown prosecutor Sarah Farnden told the jury on Monday.
Yutian Li was also found guilty on two counts of extortion, while Ipswich lawyer Cameron McKenzie was found guilty of one count for sending a letter of demand to Xin Li.
Mr Pisasale told the court he did not know at the time that impersonating a private investigator was illegal, but said he "could've found a smarter way" to deal with the situation.
Mr Pisasale is still married and living with his wife in Ipswich, but resigned as mayor wearing a hospital gown and slippers in June 2017 at a press conference outside the hospital where he was being treated for multiple sclerosis.
The 67-year old once known as "Mr Ipswich" took a seat on the council in March 1991, before serving four terms as mayor.
He secured over 80 per cent of the vote to become mayor in the 2016 Ipswich City Council election.