Production/Return to work Coordinator - [Archived Advertisement]
First listed on: 06 November 2023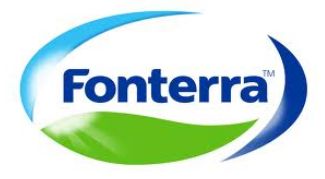 Production/Return to work Coordinator
Your purpose:
As an Operations Coordinator - Return to Work Specialist at Fonterra, you will play a crucial role in ensuring the smooth and efficient operation of our facilities while also helping individuals successfully reintegrate into the workforce. You will be a key member of our team, contributing to our operational success and making a positive difference in the lives of individuals returning to work after an extended absence.
Key Responsibilities:
Coordinate and oversee day-to-day operations within our facility, ensuring efficient production and supply chain management
Collaborate with cross-functional teams to optimize processes and improve operational efficiency
Act as a mentor and support resource for employees who are returning to work, providing guidance, training, and resources, whilst also maintain strict confidentiality in all areas.
Develop and implement return-to-work programs that support the physical and mental well-being of returning employees
Monitor the progress of return-to-work employees and provide ongoing support to ensure their success.
Maintain accurate records and reports related to return-to-work initiatives and operational processes
Participate in safety and compliance programs to ensure a safe and healthy workplace for all employees
Actively engage in continuous improvement initiatives to enhance operational efficiency
About you:
We are looking for candidates that have prior operations coordination or return to work experience ideally within a similar food manufacturing environment. A requirement of this role is that the successful candidate complete a two day return to work training course.
You can also demonstrate:
Proven experience in operations coordination or a related field
Knowledge of health and safety regulations and best practices
Strong interpersonal and communication skills
Ability to work with employees at all levels of the organization
Problem-solving skills and the ability to adapt to changing circumstances.
A commitment to creating a diverse and inclusive workplace.
We are Fonterra
Fonterra is a global nutrition company owned by 10,000 farming families in New Zealand. We employ 20,000 people around the globe and offer amazing opportunities for people who want to join our team.
In Australia, we take the milk we collect from our farmers, and our six manufacturing sites across Victoria and Tasmania turn this into dairy foods that generations of Australians have grown up with and love, including Perfect Italiano™, Mainland™, Western Star™, and Bega™. We also sell dairy ingredients to many of the world's leading food companies and partner with foodservices business across the country to get dairy foods into chef's hands.
In the heart of Cobden is our milk powder, fresh milk and butter plants, also known as the home of Australia's favourite butter for over 90 years - Western Star™. This is our largest site in Australia, which makes butter and spreads, and fresh milk for both China and domestic markets.
At Fonterra, we understand that to attract top talent we need to have the jobs that will make you want to get out of bed in the morning. Diversity, inclusion, and flexibility are a big part of our business, and with a collaborative culture, inspiring leaders and passionate people, this is a great place to work. We need good people, we need you – please apply and join our team.
Location:

VIC - Cobden
Work Type:

Full Time
Category:

Compliance/Regulatory
Environmental Health and Safety
Management/Leadership
OH&S/Risk
Return to Work/Injury Management